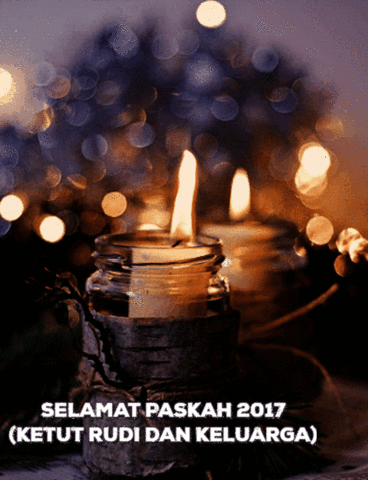 Seorang keluarga saya sedang berangkat menuju Larantuka dan dalam perjalanannya dia membuat sebuah kata mutiara sebagai berikut : " Perjalanan yang melelahkan, Sengsara namun membawa kenikmatan Rohani". Di tengah kemajuan teknologi pada saat ini dan banyak kenikmatan dunia yang tersedia dan mampu membuat manusia meninggalkan sebuah rutinitas atau sakramen sakral yang berhubungan dengan kegiatan berdoa kepada Tuhan. Namun di Nusa Tenggara Timur tepatnya di Larantuka terdapat sebuah ritual keagamaan yang mampu membimbing umatnya untuk melihat sebuah kekuatan dalam sebuah doa melalui sakramen – sakramen suci yang dilakukan. Bahkan selain umat Katholik juga datang untuk menyaksikan acara ini. Terlebih umat Katholik berusaha menyempatkan waktu agar dapat merayakan hari Paskah di Larantuka.  "Melalui doa kita akan mendapat kemampuan untuk menjalani hidup yang sesuai dengan Firman Tuhan".
One of my family was travelling to Larantuka and on the way he made words of wisdom as follows: "The journey is tiring, but brings the enjoyment of Spiritual Passion". In the middle of the advancement of technology today and many pleasures of the world are available and able to make a man ignoring many routine sacred sacrament or related activities of praying to God. But precisely in East of Nusa Tenggara, in Larantuka there is a religious ritual which is having capability in guiding people to feel the power of  praying through  a holy sacrament which is performed. Even aside of Catholics also come to witness this event. Moreover, Catholics are encouraged to take time to be able to celebrate Easter in Larantuka. "Praying then we will have the ability to live according to the Word of God".
Larantuka adalah ibukota kabupaten Flores Timur. Kota ini selalu dipenuhi oleh ribuan wisatawan dari luar kota bahkan dari luar negeri pada saat menjelang perayaan Paskah atau Kenaikan Isa Almasih. Masyarakat Larantuka sendiri mulai mempersiapkan perayaan ini sejak awal masa puasa umat katolik yaitu 40 hari sebelum Paskah. Hari suci, yang juga sering disebut pekan suci, atau di Larantuka disebut dengan Semana Santa (dari bahasa Spanyol). Sejak pagi, Kapela Tuan Ma sudah dipenuhi oleh manusia yang ingin mencium patung Tuan Ma. Ritual mencium Tuan Ma, setiap tahun berlangsung hingga Jumat siang. Tuan Ma sendiri adalah Patung Maria Mater Dolorosa. Sementara Tuan Ana adalah patung Yesus yang sangat sakral, diletakkan di dalam sebuah keranda. Puncak perayaan Paskah di Larantuka adalah hari Jumat Agung. Diawali dengan prosesi di laut, ketika Tuan Meninu (patung Yesus dalam masa kanak-kanak) diarak menggunakan perahu yang didayung oleh dua orang melawan arus, melewati Kapela Tuan Ana lalu mendarat di pantai di depan Istana Raja Larantuka dan diarak menuju armida (kapela kecil yang akan dilewati dalam prosesi perarakan Tuan Ma dan Tuan Ana). (Baca selengkapnya di dewimagazine.com)
Larantuka is the capital of East Flores district. The city is always visited by thousands of tourists from outside the city and even from abroad on the eve of the celebration of Easter or Ascension. Larantuka society their-self began to prepare this celebration since the beginning of Lent Catholics which is 40 days before Easter. Holy days, which is also often called the holy week, or at Larantuka called the Semana Santa (adopted from Spanish language). Since in the morning time, chapel of Ma has been filled by men who wanted to kiss the statue of  Ma.  Ma kissing ritual, every year takes place until Friday afternoon. Ma is a statue of Mary Mater Dolorous. While Tuan Ana is a very sacred statue of Jesus, laid in a coffin. The highlight of Easter celebrations in Larantuka is on Friday. Preceded by a procession in the sea, when Meninu (The statue of Jesus in childhood) paraded using a boat rowed by two people against the sea current, to past to chapel of  Ana and then landed on the beach in front of the Palace of King Larantuka and paraded to Armida (small chapel that will be passed by Ma And Ana parade). (Read more in dewimagazine.com)
Foto-foto diatas bukan foto pengungsi bencana alam atau sebuah peperangan tapi foto-foto ini menunjukan bahwa warga sangat antusias membangun iman dengan mengikuti ritual perayaan yang telah diwarisi sejak ribuan tahun yang lalu. " Perjalanan yang melelahkan, Sengsara namun membawa kenikmatan Rohani".  Selamat Hari Paskah Tuhan Memberkati kita semua.
The above photos are not photographs of refugees of natural disaster or a war but it is showing that residents are very enthusiastic about building their faith by following the rituals that has been inherited from thousands of years ago. "The journey was tiring, but brings the enjoyment of Spiritual Passion". Happy Easter God Bless us all.
Hari ini brsama kurang lebih 1000 pesiarah dari Kupang Nusa Tenggara Timur menggunakan kapal feri SIRUNG yang dikelola oleh PD. FLOBAMORA milik Pemerintah Daerah NTT diberangkatkan oleh bapak Gubernur NTT Frans Leburaya dan dalam pesan singkat beliau kepada seluruh pesiarah, beliau berharap agar semua pesiarah dapat menjaga ketertiban selama pelayaran maupun pada waktu melakukan ritual siarah rohani di Larantuka, sehingga sekembalinya dari acara sakral ini semua pesiarah mampu menghayati dan meneladani kepribdian Tuhan Yesus dan Bunda Maria dalam kehidupan sehari-hari (Yuvenaris Beribe).
Today together with approximately 1000 pilgrims from Kupang East of Nusa Tenggara on board to SIRUNG a ferry ship managed by PD. Flobamora owned by local government of NTT dispatched by the Governor of NTT Frans Leburaya and in his short message to all pilgrims on board, he hopes that all pilgrims will able to maintain order during the voyage and at the time of performing the ritual of planetary spiritual in Larantuka, so after returning from the event, all of pilgrims will able to appreciate and imitate the Lord Jesus and the Virgin of Mary in everyday life (Yuvenaris Beribe).
Article by Ketut Rudi
Photos by Yuvenaris Beribe on his journey to Larantuka NTT Indonesia